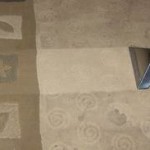 Do you have carpets in your home? Chances are that you do and even higher chances that they are dirty. You may think that they are clean if you brush or vacuum them every day, however, this is not the case. Carpets are made up of individual fibers that are like short strands of hair. Therefore, the dirt and bacteria often hide between each strand and even though you may vacuum or brush your carpets, a lot of dirt and dust is left behind, hidden deep in the carpet. In this article we will be looking at a few carpet cleaning Fullerton methods that will help you completely clean your carpets.
The first method of cleaning, is to start using a carpet steam cleaner. Instead of only using a vacuum cleaner, you can use a carpet steam cleaner that is part vacuum, part steam cleaner and part washing machine. This appliance allows you to put in water and detergent and it has scrubbing brushes which allows you to basically scrub and wash your carpets! The detergent water is heated and it is then pushed into your carpets and scrubbed automatically with the brushes. Once an area is fully scrubbed, the vacuum can be activated and all the water is sucked out of the carpet and back into the machine.
It is important to note that when using the carpet steam cleaner, you should make sure to completely vacuum up all the water which may require you to vacuum the wet areas a few times. Most of these carpet steam cleaners also create steam which can be used to evaporate any excess water in your carpets. This is one of the most effective ways to thoroughly clean your carpet and should be done at least once a month. This method is extremely effective because the brushes in the vacuum actually agitate the dirt deep with your carpet and the vacuum enables it to be completely suctioned out. You will be surprised to find that the water that is suctioned out will be extremely dirty and you'll be glad that you bought a carpet steam cleaner!
Another method of carpet cleaning Fullerton that I prefer is to simply hire a carpet cleaning service. As you can tell, carpet cleaning is extremely work intensive and can be difficult to schedule if you have a busy life. Therefore, by hiring a cleaning service, you will get your carpets professionally cleaned and the truth is that they will do a much better job than you will probably do! Before hiring a carpet cleaner, make sure to do sufficient online research for local companies and ensure they have numerous positive customer reviews. This will help to avoid any negative experiences and ensure you get the best service possible and most value for your buck.
So, there you have it, the best ways to get your carpets thoroughly cleaned as soon as possible. Carpet cleaning Fullerton can be quite time consuming and costly, however, the benefits of having clean and healthy carpets are immeasurable!
NEED HELP? CALL US! 714-451-7243